A long time ago, when I was 16, I won a pair of tickets to see Reeves and Mortimer Live in Sheffield in a competition on local radio. The competition question was based on the preceding interview with Vic Reeves. I listened closely, heard that he was born in Leeds, answered the question correctly, and won the tickets.
Of course, being the Vic and Bob nut that I was (and still am), I recorded this interview, along with some other radio appearances around the same time. I stuck them all on a single cassette, and looked after it carefully.
But tapes are a bit of a dying breed. The cassette player on my stereo wasn't too bad, but it chewed up a couple of tapes a few years ago, and I haven't used it since.
Well, now my Dad has allowed us to enter the 21st Century, having acquired a new record player at Christmas which lets us transfer all those old 45s and tapes to MP3 files.
So, I've dug out the tape (as well as one used to record an interview on Radio 2 the other week), and put some MP3s over on SoundCloud.
What I find interesting is that in the two 1995 interviews, Vic mentions the fact that they were hoping to release an album of all the songs from The Smell of Reeves and Mortimer. Of course, that never happened, but, my God, what an album that would have been.
And so. Twenty years after I saw Vic and Bob Live at Sheffield City Hall for free (the tickets should, apparently, have cost a wallet emptying £14,50), in December, I'll be seeing Vic and Bob Live at Sheffield City Hall, for the slightly costlier amount of over £35.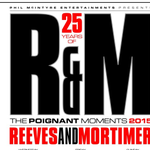 Can't wait.